UVic Engineering – 21st Century Vision
We're sorry, but all tickets sales have ended because the event is expired.
UVic Engineering – 21st Century Vision


April 1, 2022 - April 2, 2022




11:30 am - 1:00 pm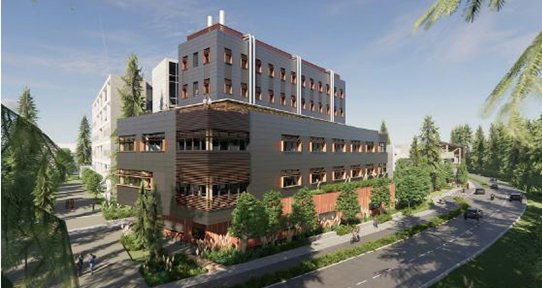 ABSTRACT:
The University of Victoria's Department of Engineering is the 2nd largest Faculty at UVic with over 3,000 undergraduates and about 600 graduate students.  To meet its growth needs for the future, the Department is undertaking a significant expansion project to expand the Engineering Computer Science Building and add a new High Bay Research and Structures Lab will showcase. To meet the growing demand for graduates from post-secondary engineering programs, UVic now got approved provincial funding to grow the program. UVic's engineering buildings currently include the Engineering Office Wing, Engineering Lab Wing and Engineering Computer Science building. Existing space limitations had resulted in the faculty creating temporary lab spaces in buildings, trailers and Sea-Can containers across campus.  Adding these new buildings, will enable UVic to consolidate these temporary facilities into new purpose-built facilities, and continue to provide a dynamic learning environment. In addition, co-locating all the engineering design studios and laboratories will facilitate greater student and faculty interactions and support interdisciplinary activities. Together, these buildings will embody the faculty's vision to construct facilities that are at the forefront of green building design. A project vision has been developed as a tool for values-based decisions throughout the design process. The project vision is: "The Engineering and Computer Science Expansion will be a beacon of innovation, collaboration and learning for an adaptive and sustainable future."
Dean Hoorfar will outline the existing overall plans and objectives for the Faculty of Engineering and Computer Sciences as it goes forward.
Speaker:
Dr. Mina Hoorfar, Dean of Engineering and Computer Science, University of Victoria
BIO:  On July 1st, 2021, Mina assumed the role of Dean of Engineering and Computer Science at UVic.  She is an academic leader and engineer known for her inspired teaching, highly collaborative approach to research, and strong advocacy of equity, diversity and inclusion. At UBC Okanagan, she was recognized as a top researcher and educator in advanced thermofluidics, partnering with industry on high-impact research and real-life solutions where she was the head of UBC's Advanced Thermo-Fluidic Laboratory,  Hoorfar's work has led to advancements in energy, health and the environment in areas such as: monitoring water quality to detect pathogens; enriching natural gas with hydrogen to reduce its carbon footprint, and developing wearable sensors to track disease.
With her highly effective and engaging approach, Hoorfar has consistently gained recognition for her teaching through numerous awards. She's a trusted mentor to her students and has lived experience addressing issues related to equity, diversity and inclusion—having faced challenges herself, especially in the early years of her education.  Hoorfar earned an undergraduate degree in mechanical engineering at the University of Tehran, then moved to Canada in 1998 to pursue a Master's and Ph.D. at the University of Toronto. She has collaborated and worked at research labs around the world, including Harvard, MIT, Stanford and UC Berkeley. In 2020, Hoofar became President of the Canadian Society for Mechanical Engineering (CSME), where she is also a fellow.  Over the years, Hoorfar's work has been recognized with many awards. A few of these include the CSME Emerging Technologies Medal (2021); BCBusiness, BC's Most Influential Women (2018); the President's Teaching Award of Excellence from Engineers and Geoscientists BC (2017); and UBC's Researcher of the Year (2016).
Description:

A unique Zoom meeting link will be sent to you by email after your registration.
https://viengsoc.ca/wp-content/uploads/2020/08/VIES-Website-logo-300x128.jpg
0
0
admin
https://viengsoc.ca/wp-content/uploads/2020/08/VIES-Website-logo-300x128.jpg
admin
2021-11-01 19:19:15
2022-03-19 16:54:38
UVic Engineering – 21st Century Vision